30 Best Hairstyles to Look Good in Photos
Daniel • updated November 5, 2022 • 7 min read
Everyone wants to look good in photos, whether they are taking a selfie or posing for their model portfolio.
There are many ways to appear good in photos, but the way your hair looks has a big effect on how excellent you appear in photos. Even if you learn how to fix flyaway hair, you should still pick the right hairstyle.
The appropriate hairdo can elevate a photograph to a new level and significantly enhance the image as a whole, whilst the incorrect style might utterly spoil an otherwise fantastic photograph.
If you have already the latest trend hairstyle, check our our guide how to make the perfect makeup for photos!
But what are the best hairstyles to look good in photos? The following 30 cute hairstyles ideas and tips for your hairstyle, range from buns to braids, can serve as inspiration.
---
Quick & easy hairstyles that always look good in photos
1. The ponytail up high
The more the ponytail is pulled up, the better it looks in photos. By the way, strands that stick out in front and frame the face will get you a lot of likes, which is a goal for some people. When the hair is arranged upside down, the style looks especially good in a photo.
Ponytail up high
2. Space Buns, a 90s trend
Some people hate the alternative styling of the techno movement, the bun, while others love it. Space buns that look so young and fresh that they are the most photogenic hairstyles.
For example, a variation on the double bun is two small. Buns on top of the head that look like a half bun. The hairstyle for a photoshoot should be daring above all: To do this, make a part in the middle of your hair and twist it with your fingers.
The hair should have been washed the day before to undo the style, pull out each strand of hair.
If you like to get serious about portraits, you can follow our instructions how to get started with portrait photography!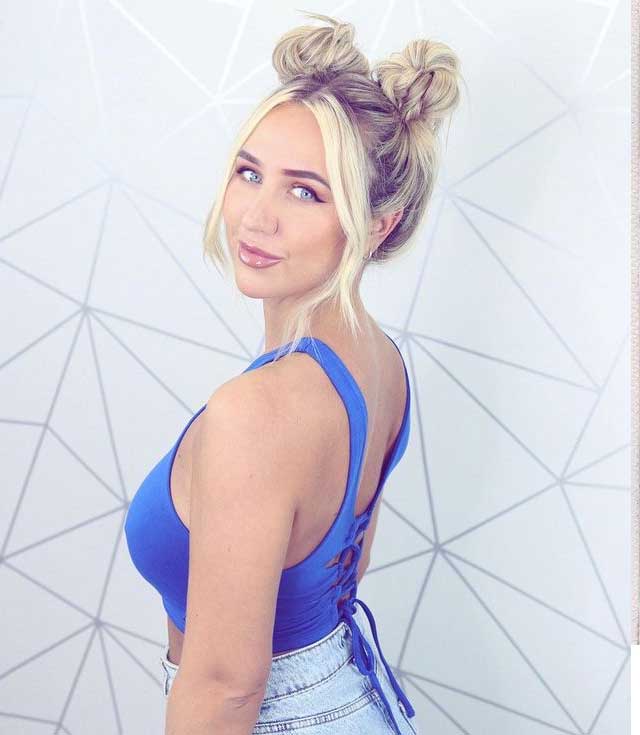 3. Hair with waves and add-ons
This picture day hairstyle looks good in real life and in pictures, and it works for both long hair and bob hairstyles. If you don't have natural waves, just put your hair in braids and sleep on them.
The following day, knead some mousse into the angel waves to give them some grip. With a straightening iron, you can twist hair strand by strand to change the look. Accessories for the hair, like barrettes and hair bands, add even more fun to the picture.
---
Hairstyles for long hair
4. Classic & elegant: chignon or updo hairstyles
Pinned-up long hair is the ideal hairstyle for a photo since it adds femininity and elegance to any outfit, whether it's a classic banana, an artfully twisted-in chignon, or a loose side-to-center-parted and straightened half-up appearance. This is also great for outdoor portraits, as it keeps the hair secure if there is wind.
5. Braided hairstyles are romantic and feminine
Hairstyles with French braids are romantic and feminine. The hair can also be braided just a little bit or in a very complicated way. Quick and stylish: long, open hair held back by a headband made of a single braid.
6. Hair is laid down in waves in a casual way: Beach Waves
Beach waves are simple and always appropriate. For elegant waves, your hair needs to be well-groomed and free of split ends.
Use special products like a leave-in conditioner with heat protection or a weightless shine spray to finish dry, damaged hair so that it shines like silk and falls beautifully.
7. Side-swept waves are glamorous
Side-swept hairstyles look especially elegant when the hair is gently curly or wavy, or even when the lengths are twisted in.
When used with glittering hair clips or barrettes, they make long hair look like it came straight out of Hollywood.
8. Curls make a woman look seductive
Who could wear curls better than women with long hair? People with naturally curly hair know how to show it off with rich products that define and shine it.
A hair band, a sparkly headband, or elegant hair combs or clips can be used to decorate and tame curls that don't follow the rules.
9. Volumizing spray or dry shampoo
Add a volumizing spray or dry shampoo to fine, thin hair before styling to make updos and braids last longer. This adds body and grip to the hair. The style lasts longer, and styles with a lot of volume fall less quickly.
Hairstyles for half-length hair
10. Braided sides
Half-length hair is braided on the sides and secured at the back of the head for a romantic, feminine appearance. From a particular length, half-length hair can also be styled in a loose updo. Everything is held in place by hair clips for the photo-session. 
11. Undone bob
A bob with delicate curls or lightly tousled waves complements ethnic or bohemian-inspired ensembles since it looks effortless and natural. Glossy products enhance the appearance and give the hair a healthy appearance.
12. Vintage glam
An elegant and slightly retro touch to the 40s and 50s fashion is a disheveled fringe with twisted sides. Wet styles that are worn openly also seem classy if the hair length is insufficient to gather the hair at the nape or rear of the head.
13. Add a headband
If you feel that half-length hair is worn with an open look that looks too ordinary, give your hairstyle more individuality and glamour in no time with a decorative flower headband, this also makes the photo more interesting.
Hairstyles for short hair
14. Modern and sleek: wet hair look
You may achieve Tilda Swinton's chic, sleek appearance with wax, cream gel, or certain wet look products on a short haircut with long top hair.
15. A toupeed pony haircut is cool and edgy
A quiff adds a wonderfully rugged throwback touch to a short haircut with bangs. You can also use some gel to further smooth the sides, depending on taste.
16. Retro-chic: 1920s-inspired water waves
The glitz of the 1920s is revived with side parted, waved hair. If desired, match your clothes to this slightly retro haircut with hair combs or clips to complete the effect.
17. Romantic: Various braids
As long as the top hair is long enough, even short hair can be braided. The braided portion stands out even more thanks to a deep side part. The appearance is considerably more lovely with pinned flowers.
18. Dress it up
Hair ornaments like chic fascinators, little hats, or hoops look even nicer when worn with short hair. They enhance the overall elegance and individuality of photo.
Hairstyles for gray hair
19. Look good with gray hair
Gray hair can also be stylishly twisted in or put up, depending on its length. An attractive hairpiece, such as a fascinator, can be worn as the crowning glory of short hairstyles. Your photo will have more refinement with a matching hat.
To give gray hair a gorgeous, silvery luster and eliminate the unwelcome yellow tinge, use a shampoo designed specifically for gray hair.
Products used to style and care for gray hair frequently also have a thickening impact. Gray hair that has been well-cared for is not only smoother, but also simpler to style.
Mistakes in hairstyle you should avoid
20. Bangs that are too round
Bangs are fantastic for hiding the initial signs of aging, but there is one guideline to remember: Your bangs should never be cut in a round shape, as a downward hairline will emphasize the thinning of the skin's elasticity. Instead, it need to be either slightly upward or crosswise.
21. Too short or long
Always strike a balance between the two: You won't look your best in the picture with hair that is either excessively long or too short. If you style either hairdo without taking into account your facial shape or hair texture, you will appear older.
22. Too blonde
If your skin and hair are the same color, heavy bleaching frequently makes you look older. Instead, use several colors of hair dye to enhance depth and make you look younger for the photo.
23. Know your face shape
You take into account your body type when choosing an outfit in terms of fashion. Don't forget about the form of your face when choosing a new hairstyle.
It is helpful to have a picture to show your stylist what kind of cut you want, but keep in mind that due to the differences in your face shape from the model's, the same cut could not look as fantastic or flattering on you.
Read more about how to photography faces.
Tips for your photoshoot
24. Hairstyles for outdoor photoshoot – consider the location
The location should always be considered while designing your hair for a photo shoot. If you're shooting in a more formal setting, you might want to put your hair up in an elegant updo.
If you're shooting in a more casual location, then you might want to keep your hair down and flowing. For a outdoor photoshoot, it's also important to think about the weather and light situation and how it might impact your chosen hairstyle.
25. Look at your wardrobe
Just like location, wardrobe can also play an important role in helping you determine what hairstyles to wear for the photoshoot.
You should include a range of images in your photo portfolio to demonstrate your versatility. You should therefore take photos that show various attires that support various themes.
Your hair is one of your most important accessories, and it can do a lot to complement your outfit and help pull the picture together.
Are you dressed in a daring way? This goes well with more cutting-edge hairdos. Are you sporting a straightforward, feminine outfit? If so, make sure your hair is elegant and uncomplicated.
26. Keep it simple
So that the stylists can dress you appropriately for the occasion, keep your appearance as straightforward as feasible. Have hair that will be simple to deal with, clean, and free of tangles to the photo shoot.
Hair gadgets for your photo
27. The hair donut
Donut-shaped hair pillows help you make the perfect chignon. They got their name from the sweet treat that looks like a donut.
First, the hair is pulled back into a ponytail. Then, a hair donut is pulled over it so that the hair can be spread out and fixed in the last step.
28. Salt or sugar spray
When hair is exposed to salt water and sun, it gets sticky and thick. What you sometimes get too much at your beach vacation, you wish you could have in smaller doses at home for your look and photoshoot.
Sea Salt Spray, on the other hand, makes hair easier to work with and gives it beautiful beach waves. Sugar Spray is a gentler option that makes a slightly different texture.
29. Flat iron and curling iron
Straighteners and curling irons are needed for most creative hairstyles.  It can be hard to decide which ones to buy because there are so many, therefore you should think about your hair and how you want to style it.
30. Quick bun
The Fast Bun is another chignon tool. It is a versatile clip that you just place under your ponytail. Then, turn your hair and close the clip, and yup, you have a chignon.
Tools to bring your portrait photography to life
More hairstyle ideas:
Hairstyles for Long Hair: Styling Tips for Volume
History of The Beatles as told by their hair
Simple twist hairdo in three steps
Pigtail braids hair tutorial
Pick and drop braid hairstyles for black women
Go to style for summer, fishtail braids
Keep reading: 17 Tips How to Snap Beautiful Self-Portraits »
What is your opinion on the best Hairstyles to Look Good in Photos? Let us know in the comments.
Your thoughts and questions